2016 Read Alouds Too-Good-Miss List!
Prairie Chicken Little has been named to the 2016 Read Alouds Too-Good-to-Miss list! Each year, a committee from the Association of Indiana School Library Educators develops five lists: one each for primary students, upper elementary students, middle grade students, high school students, and ageless. Prairie Chicken Little is on the ageless list. The purpose of the program is to promote a love of reading and books and to instill and nurture lifelong reading habits in Indiana students. You can find out more about the program here.
Nominated
for the 2016-2017 Volunteer State Award!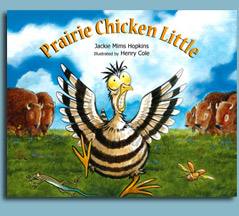 Prairie Chicken Little
Illustrated by Henry Cole
Published by Peachtree Publishers

When Mary McBlicken the prairie chicken hears a rumblin' and a grumblin', she sets off to warn her friends in this prairie-style twist on Chicken Little.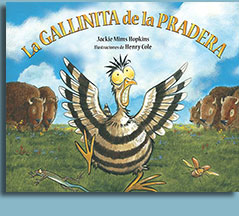 Prairie Chicken Little now available in a Spanish edition! See the publisher's page here.