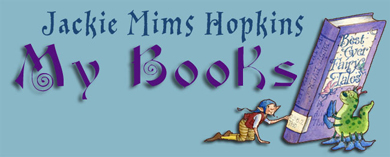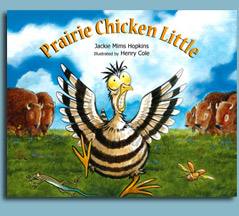 Prairie Chicken Little
Illustrated by Henry Cole
Published by Peachtree Publishers

When Mary McBlicken the prairie chicken hears a rumblin' and a grumblin', she sets off to warn her friends in this prairie-style twist on Chicken Little.
Mary McBlicken is sure a stampede's a comin'! She hurries to the ranch, gathering up her friends-a prairie dog, a jack rabbit, and a meadowlark-along the way. Before the fine feathered and furry folks get to their destination, they encounter a coyote who says he knows a shortcut. Should they trust him? Will they find Cowboy Stan and Red Dog Dan in time? And where is that rumbling coming from anyway?
Reviews
Great news! Prairie Chicken Little is a nominee for the 2016-2017 Volunteer State Award!

"Hopkins' prairie take on "Chicken Little" is made storytime perfect by Cole's characteristically hysterical, watercolor-and–colored-pencil cartoons of goggle-eyed critters. It's also a nice twist that Mary and her friends save themselves from the coyote rather than ending up as lunch or requiring outside assistance. The prairie animals (some not mentioned in the text) make this a nice addition to cross-curricular libraries, though it's too bad there is no additional information as a backmatter bonus. Nevertheless, good fun to share in a lap or with a group." (Picture book. 3-7)
—Kirkus, January 2013
"The repetition invites chiming in from young readers, who will also find plenty to chuckle at in Cole's (Unspoken) bustling watercolor, ink, and colored-pencil illustrations, which convey the animals' overblown fright with comedic bravado…a lively take on this familiar tale."
—Publishers Weekly, January 2013
"The simple text with its rhyming words and repeated phrases will appeal to emerging readers. Pair Steven Kellogg's Chicken Little (Morrow, 1987), featuring a city setting, with this prairie version of the folktale for an entertaining storyhour."
—School Library Journal, March, 2013
Great news! Prairie Chicken Little is a nominee for the 2013-14 Flicker Tale Children's Book Award -- North Dakota's children's choice award -- in the picture book category! Find out more about the award.
More great news! Prairie Chicken Little is ALSO a nominee for this year's FRA - 2014-2015 Florida Reading Association Book Award. the Montana Treasure State Award and the Delaware Diamonds Award!
Visit the publisher's web site to read about Prairie Chicken Little!