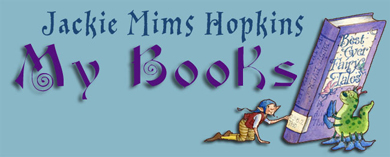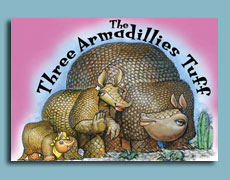 The Three Armadillies Tuff
Illustrated by S. G. Brooks
Published by Peachtree Publishers
On their way to a new dance hall, three armadillo sisters, Lilly, Jilly, and Dilly run in to a coyote named Tallula. To avoid becoming armadillo chili and armadillo skin boots, the sisters treat Tallula to a girl's night out. The Three Armadillies Tuff is a spirited retelling of The Three Billy Goats Gruff with a Southwestern twang.
Reviews
"Droll turns of phrase and hints of dialect add fun and flavor to the tale."
School Library Journal
"Most clever sounding and spicy spin on a fairy tale ."
Publishers Weekly
Awards and Lists
Nominee, 2006 Golden Spur Children's Literature Award, Texas State Reading Association
Land of Enchantment (New Mexico) Book Awards Master List 2004-2005
Show Me (Missouri) Readers Award Master List

2004-2005

Performed at The Kennedy Center in Washington, DC by The Library Players in March, 2004
Visit the Armadillies' own web site for lots of fun and games, southwestern style!